Velocity Clinical Research, Albuquerque
Velocity's research site in Albuquerque was founded in 2017 as the fourth site of MedPharmics and acquired by Velocity in 2022. Since its inception, the site has conducted trials in Infectious Diseases and Women's Health, including over 15 vaccine trials. Our Albuquerque site played an integral role during the height of the COVID-19 pandemic, conducting COVID-19 trials for both children and adults.
Located just off the Pan American Freeway in an independent medical office building on Lead Avenue, the site is easily accessible. Additionally, half of the clinic staff is bilingual and can comfortably accommodate Spanish speaking patients. All trials conducted at the site are performed in accordance with ICH and FDA guidelines, and in compliance with GCP. The Albuquerque team is committed to being a resource for study volunteers, to providing the highest quality of patient care with compassion and kindness and to advancing medicine through research.
Velocity Clinical Research, Albuquerque
3901 Carlisle Blvd NE, Albuquerque, NM 87107
Phone: (505) 243-1627
Email: info@velocityclinical.com
Find a Clinical Trial in Albuquerque
Visit VelocityClinicalTrials.com or follow us on Facebook for study updates and more.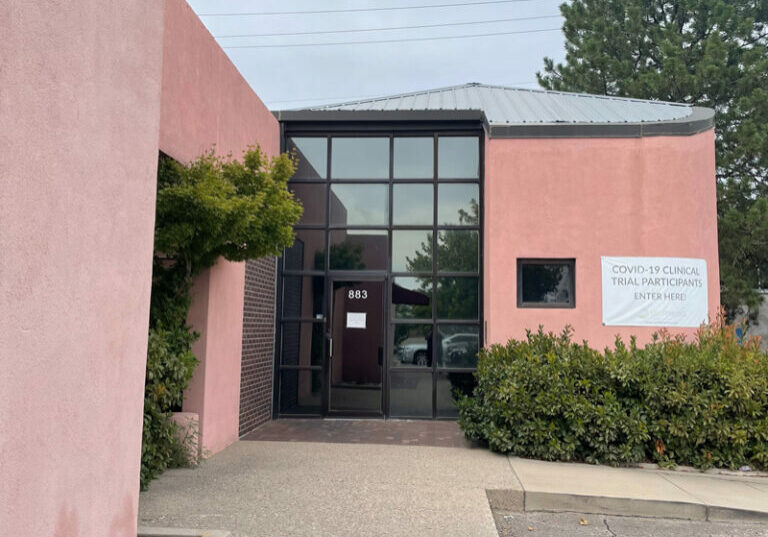 Our experienced research team in Albuquerque
The Velocity Albuquerque team of physician investigators and clinical research professionals are experienced clinical researchers. All physicians are board certified in their specialty area(s) and all research staff is trained in clinical research regulations, including GCP and HIPAA. Training records and certifications are maintained. Our clinical team is dedicated to conducting quality research in a professional and caring environment and strives on collecting quality data.
Principal Investigator
Sara Friedman, MD attended Brandeis University where she earned her undergraduate degree in Biology. Following her stint in Massachusetts, Dr. Friedman spent time working in clinical research as a research assistant before attending the University of New Mexico School of Medicine. She then completed her OBGYN residency at the University of California, Davis in 2009 before returning to Albuquerque to work in a private practice. Dr. Friedman spent time with three groups until 2020, when she returned to clinical research in a full-time role as a principal investigator. Through her efforts in clinical research, Dr. Friedman hopes to make an impact by bringing new treatments and technologies to the Albuquerque community and more.

Sub Investigator
Quito Osuna Carr, MD joined the clinical trial industry as a principal investigator in 2018. With his 50 years of experience as a physician, he has provided invaluable insight in trials in various therapeutic areas. Although semi-retired, he continues to help the Velocity Albuquerque site in an investigator role. He began his career in various clinics across California before returning to New Mexico. While in New Mexico, Dr. Carr ran his practice for 18 years and worked as an emergency physician for 17 years. Dr. Carr earned his medical degree from Stanford School of Medicine after receiving his undergraduate degree from University of New Mexico. Additionally, Dr. Carr completed his HEW fellowship of tropical medicine in Brazil, Uganda, and Sri Lanka.

Site Director
Vanessa Gamboa has been involved in clinical research since 2012 when she worked as a lead patient care coordinator and eventually became a clinical research coordinator. She then transitioned to work with MedPharmics (now Velocity Clinical Research) in 2018 as an administrative assistant before assuming the roles of clinical research coordinator and later, site manager. While still under MedPharmics, Vanessa also acted as the IBC representative for the Albuquerque site. Now with Velocity, Vanessa supports her team in a myriad of ways as the Site Director. Vanessa draws upon her own experiences to help teach and lead her team to conduct top notch clinical trials. Vanessa speaks Spanish fluently which allows her to support an even larger portion of the Albuquerque community.
Albuquerque facility features
The Velocity Clinical Research, Albuquerque facility is designed for the ease and comfort of study participants and to allow optimal efficiencies in performing clinical trials. Features at this site include:
Private examination/consultation rooms
Comfortable patient reception areas
Facilities for extended-stay pharmacokinetic studies
Parking
Nursing station
Secure monitoring rooms or workstations with phone & high-speed internet access
Multiple individual & secure workstations for research staff
Regulatory document processing area
Electronic data capture (EDC) capabilities
Secure record storage
CLIA certified research laboratory or clinical laboratory with CLIA waiver
Ambient and refrigerated centrifuge
Secured & temperature controlled investigational product storage with pharmaceutical refrigerator & freezer
Freezers equipped for laboratory specimens at -20 & -70 degrees Celsius
Backup generator/power source in the event of site power loss
Standard medical equipment, including ECG and Holter machines, digital and analog scales