+
participants with diabetes and/or obesity enrolled
+
endocrinology and metabolism trials conducted
+
sites that can support diabetes and obesity trials
Velocity has conducted trials that have led to 20+ product approvals for diabetes, obesity, and dyslipidemia
The Velocity Diabetes and Obesity Council to Accelerate Research Excellence (CARE) develops best practices to guide recruitment, screening, trial conduct, and retention strategies for all Velocity sites. This council is led by experts with extensive research and medical practice experience, along with veteran operational leaders.
Given the high prevalence of obesity (40%+) and diabetes (11%+) among U.S. adults, these diseases represent a growing therapeutic need, particularly as children become increasingly affected by these diseases. While afflicted populations are large, the diversity of concurrent therapies and lifestyle considerations can quickly complicate clinical trial design, screening, and enrollment.
10+ sites with extensive diabetes and obesity capabilities
On-site dietitians at key sites
Access to millions of patient lives
World-class diversity and community engagement initiatives
Expertise in diabetes-related device research, including continuous glucose monitoring
Diabetes and Obesity CARE Council Leader
Velocity's Diabetes and Obesity CARE Council is led by distinguished physician, Julio Rosenstock, MD, FACE. The council leverages his vast experience in diabetes and metabolism-related research, alongside Velocity sites and staff that have supported thousands of trials and offer access to millions of patient lives.
Julio Rosenstock, MD, FACE
An internationally known opinion leader in type 2 diabetes, Dr. Rosenstock is Senior Scientific Advisor for Velocity, Director of Velocity's site at Medical City Dallas, and Clinical Professor of Medicine at the University of Texas Southwestern Medical Center, Dallas. Dr. Rosenstock has long focused on exploring novel agents and therapeutic strategies for glycemic control, and particularly early combination therapies for type 2 diabetes.
Over the last 30 years, he has participated in hundreds of clinical trials and has had an active role in the development of new oral agents, incretin-related therapies, and insulin preparations, often acting as a lead clinical investigator and scientific advisor on the design and reporting of clinical trials on novel diabetes drugs. Dr. Rosenstock has been the author or co-author of 375 peer-reviewed manuscripts (h-index 123) and hundreds of scientific abstracts. He is considered a key opinion leader in type 2 diabetes.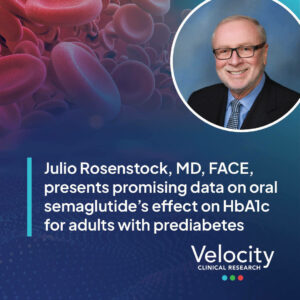 Julio Rosenstock, MD, FACE, Principal Investigator at Velocity and the leader of the Diabetes and Obesity CARE Council, unveiled data suggesting a potential breakthrough for adults with prediabetes. When administered oral semaglutide, trial participants achieved normoglycemia at 68 weeks. Dr. Rosenstock commented, "Those people who participated in the OASIS 1 trial with prediabetes who received oral semaglutide experienced more HbA1c normalization and none progressed to type 2 diabetes." Furthermore, the same group of adults with prediabetes lost an impressive 14.4% … Read more